St Philip's Christian College Waratah - Active Learning Centre
Designed to motivate and inspire students and staff to invest in the vision of their future healthy self
Client
St Philip's Christian Education Foundation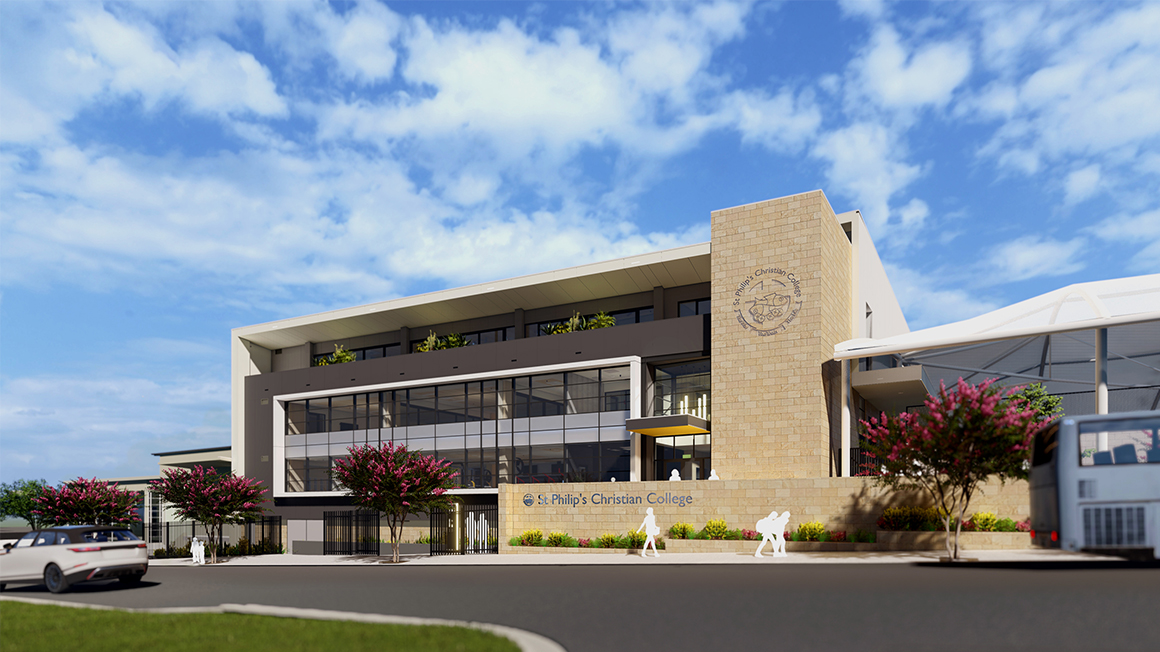 The Active Learning Centre at St Philip's Christian College, Waratah Campus will be the hub of physical activities and incorporates a large indoor multi-sport court space, ninja gym and climbing wall facilities, dance and drama studios, weights and gymnasium facility, musical rehearsal spaces, related amenities and change facilities, end of trip staff facilities, staff and student learning and well-being areas, covered outdoor play areas, and cantilevered walkways and viewing areas linking the spaces around the central indoor court area. Large LED screens, integrated sound systems and a 15m wide vertical bi-fold door allow the internal and external play spaces to be connected and used to accommodate the entire school community for end of year awards ceremonies and events. The project also includes refurbishment of the adjacent external covered court area and tied into the existing theatre building.
The design addressed many complex challenges, including the connection of circulation and egress paths to multiple levels of the existing school on all four corners of the building, dealing with the risk of overland flow from flood events from the connecting internal laneway and adjacent spaces, and incorporating fire protection of structure over 4 storeys and across a large atrium space. Connectivity between the new facility and the neighbouring theatre building and performing arts spaces, to improve and amplify student and community shared facilities, required detailed investigations and multiple circulation arrangements to successfully achieve the clients desired brief.
The building's palette of finishes includes warm tones of sandstone cladding, with neutral shades of prefinished CFC and metal cladding, allowing it to integrate and complements the existing school context, while also ensuring the facility provides a high standard for future development to follow. St Philip's Christian College Waratah Active Learning Centre is designed to motivate, inspire, and equip students to create, explore, and invest in the vision of their future healthy self.