Burton Residence
Residential water pavilion floating over its own wetland in the rural setting of Largs NSW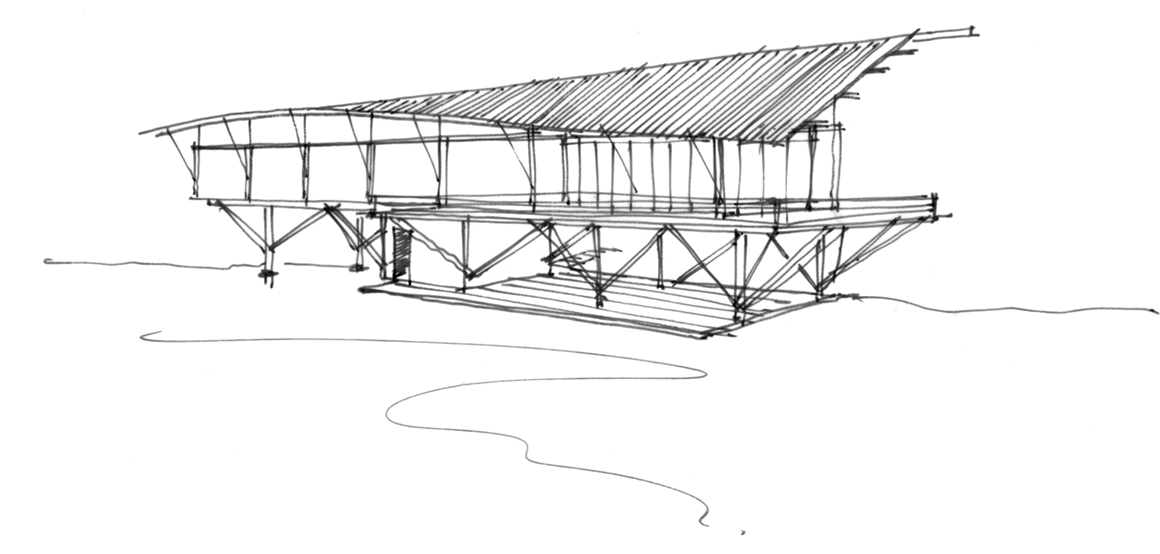 The concept and inspiration for the residence stems from the clients keen interest in bird watching, particularly the migratory birds that use the remnant part of the Hunter River on his property as a breeding ground.
It seemed natural that the client wanted his new residence to have an intimate relationship with the water and the bird life within it. It was also important that the environment, allowed passive heating and cooling, took advantage of the views over the Hunter River Valley and gave maximum privacy from the future subdivision immediately adjacent to the site.
Conceptually then, the building was divided into two parts; the water and the land. The building hovering over the water draws on the fluid nature of water and the idea of flight as symbolic of migratory birds. Consequently this structure is made up of light steel and timber framing, with glass providing the building with a delicate transparency. In stark contrast, the buildings sited on land are solid rectangular forms representing a heavy connection with the earth.
The water pavilion was positioned above the 1 in 100 year flood level, and sits suspended above the water level on minimal support points, resembling an insect skimming on the water surface. The undercarriage provides a shaded meditative platform close to the water level, where the owners can interact with the bird-life and water plants. A simple bridge link is all the tethers the water pavilion back to the bank of the pond.